Formal Curse: Zero
Means: Zero love, Zero heart, Zero soul
Title[s]: White fang/Silver fang, Hunter, Reaper
Alias:
Decent: half dog
Age: 2 years
Gender: male
Persona: Zero is a quick thinker, cautious and always alert even if relaxing. He takes time to trust others as well as himself, he hates most wolves, hardly is ever nice. Usually he is a cold wolf who stalks and moves in darkness, occasionally you could catch a glimpse of him mourning, but no wolf sees that now. He is the sort of wolf who you'll regret to have as an enemy, if he ever had friends and they were in trouble, he would swim to the other side of the world for them.Zero is a very fast thinker, always cautious and never loses his guard. His personality is always changing, Zero usually sits by the river watching the sun reflect the light. He can shut all the noises around him and just lose himself in thinking. He wonders about everything, and is a careful planner as well as a not wanted to-be opponent. Zero is a cold wolf who always thinks for himself, though occasionally he does show his soft side to others he wishes to. If a friend or someone in debt to him was in trouble, he would walk on hot-coals or wipe out a whole pack to save them. Zero would sometimes suffer from nightmares, and keeps all troubles bothering him to himself, not bothering other wolves around him.Yet other times he is mysterious and likes to open up to other wolves around him.
Heart: -
Motto: "In fights, plan, fight and don't bow your head, you fall, you die."
.Physical Traits.
Peltage Hue: White
Occular Hue: Icy Blue
Stands: 85cm
Weighs: 38.5kg
Form: Zero is a well built wolf with distinct leg muscles that ripple under his fur. Zero may not be the strongest wolf you meet but he's definitely the fastest. Zero is larger than the average wolf with strong yet long legs and a tail like a Golden Retriever, he doesn't have sharp claws but he has undeniably sharp fangs and thick neck fur making him a hard target.
Physical Distortions: Zero's ears are shaded black with a marking along his left shoulder
.Family Tree.
Sire: L
Dame: Flutter
Brothers: Hurricane -Dead-
Sisters: (none)
Partner:
Whelps:
Challengers:
Minions:
Rank:
.Background.
Life Story: Zero's family was not the normal packs, he did not remember anyone besides his brother. His mother, he only had a faint memory of her, but it faded. His father left them for own purposes, but never came back. Their mother gradually became lonely and suffered an illness. She passed away shortly after that. Zero then was left with his brother, his brother vanished months after trying to protect Zero from a bear. His brother told him to run, Zero did as he was told, but never found his long missing brother.
After seeing that, Zero struggled to surive on his own, after being taken in by a good pack, but they never treated him the same. He would get into all sorts of trouble for being a lone pup, everything was going wrong, until he met his mentor. The mentor taught him how to fight and keep emotions sealed inside, Zero had looked up to his mentor. until, his mentor set a fire and wiped out the other pack, the real reason was that his mentor wanted to fight a clone of himself, and he saw potential in Zero.
After that, Zero had kept to himself and is in search for his long lost brother, believing that one day, fate would tie them together.
Place of Birth: (where your wolf was born)
PIC:
--------------------------------------------------------------------------------
Formal Curse: Kaze
Means: Wind
Title[s]: Wind, Storm
Alias:
Decent: Pure
Age: 2 and a half years
Gender: Male
Persona: Kaze can be known as Mysterious, some say he's dangerous others say he's kind. It really depends on how you treat him when you see him first. Kaze hates being defeated, he had never lost a fight. You would see him spitting scornfully at other males and sometimes even getting into a fight with one. He's the type that hates the free-flowing, happy, easy to accept everything wolf. He prefers to sit alone under the shade of a tree, or at a cliff where he can see things to it's fullest. Though not known, he likes to watch over other wolves
Heart: -
Motto: "The wind comes and goes but dust remains."
.Physical Traits.
Peltage Hue: Silver
Occular Hue: One golden while the other is blue (due to blindness)
Stands: 87cm
Weighs: 48.5kg
Form: Kaze's muscles focus on the jaw,leg and fore-legs. He has incredible strength in his jaws, being easily able to snap a prey's neck. He unlike other strong wolves, doesn't have short stubby legs, he has decent legs but not the fastest. Though he may not win in races, he will win when it comes to chases. He is very strong with thick fur and long talons, his teeth isn't as sharp as other wolf's but his strength covers that up. With strength he uses it carefully and plans because one wide swing; would mean he's wide open. One short swing; He misses.
Physical Distortions: Kaze's body form is almost like a siberian husky (Look at his pic)
.Family Tree.
Sire: (rogue)
Dame: (Melody)
Brothers: (none)
Sisters:
Partner: (The mate and one you choose for a life partner)
Whelps: (The children you've birthed or sired)
Challengers: (wolves who are against who you are)
Minions: (wolves who follow under your control)
Rank: (within a pack you have rank(s). Some packs hand out ranks to every wolf. Check on that before joining)
.Background.
Life Story:
Kaze lived happily in a pack, but that was not what brought him such selfishness. He was lost during the moving of dens and got targeted by an Eagle, that's when he lost sight of one eye, merely escaping with his life. Then Kaze was still young and didn't know how to scent or track for his pack. So instead, he survived by venturing into another pack which treated him poorly like they did to loners. Kaze did not complain but during feeding time, the fastest would get the most, the strongest would get the most. But Kaze was used to a soft life, so getting into another pack was a shock for him. But soon he got the drift and was the first to eat and the strongest. The pack saw him as dangerous and chased him out. That was what brought him his selfishness and ambition to win.
Place of Birth: (where your wolf was born)
PIC
----------------------------------------------------------------------------------
Formal Curse: Romulus (Rom-U-Lus)
Means: Spirit/Mystery
Title[s]: Wanderer, Arrow
Alias: (names other know of you)
Decent: 99% pure
Age: 2 and a half years
Gender: Male
Persona: Romulus is a cheerful wolf, you'd probably never come across someone THIS enthusiastic in your life. He pulls pranks on older wolves, likes to annoy other wolves and grins and smiles a lot. You'd never catch him with a sad face (even if you do it's probably a joke). He loves annoying wolves who think they're superior. But he also has his sad times and during then he fakes smiles and sometimes you just want to tell him to stop putting up with his cheerful act
Heart: (the alliance your wolf holds)
Motto: "Don't put on that sad face, it just makes others sad. Instead, put on a happy face." "I want to protect that smile."
.Physical Traits.
Peltage Hue: Patched (See pic)
Occular Hue: Amber/Golden
Stands: 86cm
Weighs: 39.7kg
Form: Romulus is well built for both running and strength though he never really fights a lot because of that "gifted" personality of his. Romulus's fur is mainly a dark brown with patches of orange, white and black. His underbelly is a light orange/yellow/brown, and his hind-paw on the right has a dab of white to his paw.
Physical Distortions: He has no battle scars.
.Family Tree.
Sire: Himitsu
Dame: Spirit
Brothers: Aragashi
Sisters: Hime
Partner:
Whelps:
Challengers:
Minions:
Rank:
.Background.
Life Story: Romulus likes to say, "My history? Ohhh don't tell me you've fallen for me." Or other times, "My history? Well why don't you tell me YOUR history first?" But mostly: "My history? Hehe, I've been a wanderer through time... for a long time. I'm ancient and immortal. Believe that?"
everytime you ask him about his history, he makes up a lie or a joke. "It's a secret."
And it certainly is.
Place of Birth: (where your wolf was born)
PIC
---------------------------------------------------------------------------------------------------------
Formal Curse: Crescent
Means: half moon
Title[s]: Wolf behind the mask, split personalities
Alias:
Decent: 97% pure
Age: 2 years
Gender: Male
Persona: Crescent is the peaceful type of wolf who gets along well with other wolves, he doesn't steal prey nor does he pick fights. Crescent is timid and agile, he is warm-hearted yet brave and courageous. He mainly is quiet and some-what "shy" but if you ever anger him, he'd show you his real dark side... But no wolf has really treaded that far in his personality, so no wolf knows his fake personality he's putting on.
Heart: Light (Or really?)
Motto: "That sounds nice." But really it's. "I hide behind a fake mask, no one realizes. My whole existence is a lie."
.Physical Traits.
Peltage Hue: Mainly brown
Occular Hue: Amber
Stands: 88cm
Weighs: 41.9 kg
Form: Crescent has a beautiful light oaky brown colored fur, he has a dark brown "V" like shape on his chest. He has a dark brown underbelly with paws, ear tips, tail tip and dark brown dabs above both eyes. Crescent has a very dark amber which sometimes can be mistaken for a shiny gold at night. He has not the best build but you can tell he's been fighting for a long time
Physical Distortions: No battle scars
.Family Tree.
Sire: Breath
Dame: Eagle
Brothers: Divine, Gate
Sisters:
Partner:
Whelps:
Challengers:
Minions:
Rank:
.Background.
Life Story: Crescent was an abandoned puppy, unwanted due to his parents low rank in the pack. The alpha showed no sympathy and sent him out. Crescent wasn't ever skilled in fang battles but soon he learnt that if he wanted to live, he had to fight.
Pup-hood was just scavenging from what coyotes, foxes and other wolves left over. One year old, he dared to steal from a wolf due to hunger, and that 'hunger' mode made him desperate, he nearly killed the wolf out of desperation. That's when he realized, he could win if he was desperate.
One and a half, he thought he'd mastered fang battles and wandered back towards the back he was chased out of, the alpha was weaker now. He was old and could barely speak, Crescent saw his chance.
That night Crescent hunted down the alpha and escaped, he felt the blood drip down his throat. It tasted salty. Unlike the blood of prey.
Place of Birth: (where your wolf was born)
PIC
---------------------------------------------------------------------------------------------------
Formal Curse: Night (or Nightsky)
Means: Dark,
Title[s]: Pride
Alias: (names other know of you)
Decent: Pure
Age: 1 year
Gender: male
Persona: Night is the proud wolf (his nickname was Pride), he never escapes from fights even if his life was on the line. He wouldn't fall during fights, even if he did he would get up. Other say: "If he dies, he'd die standing up." Night never bows his head down to anybody, his head is always held high with Pride. He hates losing and his ambition to win has become something truly terrifying.
Heart: -
Motto: "Prey doesn't taste good unless you hunt it yourself."
.Physical Traits.
Peltage Hue: Ebony Black
Occular Hue: stunning green
Stands: 86cm
Weighs: 32.8kg
Form: Night is built well, with swift and agile sharp movements, lots of strength within his small build. He uses will-power and ambition to win most of his fights.
Physical Distortions: Night has one long scar across his left leg which has healed over time.
.Family Tree.
Sire:
Dame:
Brothers:
Sisters:
Partner:
Whelps:
Challengers:
Minions:
Rank:
.Background.
Life Story:
(Night as a puppy was the usual playful lot of energy but at the age of eight months he realized he wasn't strong enough. The choosing for the next alpha in line was coming and he and his brother would be competitors. His brother was stronger than him and faster than him, more confident than him too. So Night trained along with the old mentor his father had, he trusted the mentor to make him stronger. But on the day of the choosing they chose his older brother, why? Simply because he was 'Older'.
That's what started his ambition and personality. He was jealous.
Place of Birth: (where your wolf was born)
pic
----------------------------------------------------------------------------------------
Done

Phew, more updates later, Zero>>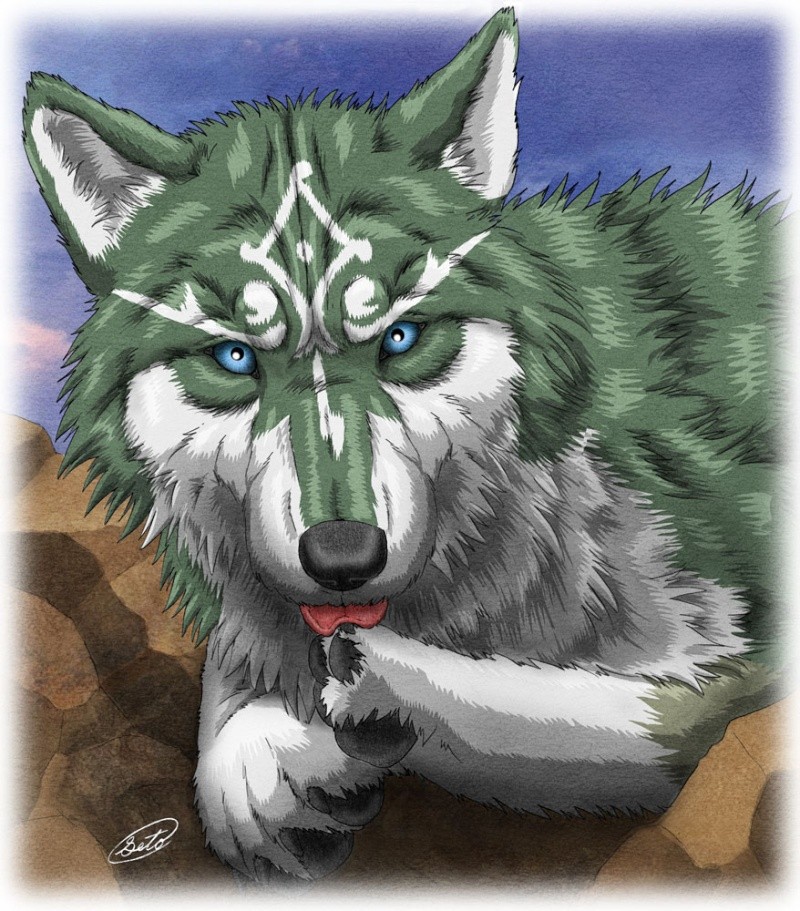 <<< Kaze except the greenish part is black.
< Romulus
< night