Name: Rodion Aleksandr Belikov
Pronunciation: RO-di-on Al-ek-SAN-der BEL-i-kov
Name Meaning: Rodion: form of Herodion, meaning "Dedicated to Hera";
Aleksander: "Defending men"; Belikov: "White"
Nickname: Sometimes goes by Rodia, often called by his surname, Belikov
Gender: Male
Breed: Eurasian Wolf
Current Age: 5 years
Personality: Rodion is outwardly tough and to most seems like he has a heart of stone when it comes to leading others. He is often strict and will not take nor or a question for an answer. When he gets to know someone, however, he is deeply caring and devoted to them, and this can be to his disadvantage. He loves children, and when not in work mode is always willing to get in the dirt and play with them. He doesn't find a lot of free time, as he likes to keep himself busy, but he relishes spare moments and can get snappy when someone interrupts his personal time for something trivial. He will never turn down company though, and is often asked for advice. He won't always oblige, but if there is a problem bothering a pack mate, he is all too ready to take them aside one on one and deal with their problem. He is a firm believer in supporting the underdog.
Physical Features
Pelt Coloration: A mix of greys and blacks along his back, with copper near his auds and nose, and cream on his underbelly and nose.
Eye Coloration: soft yellow
Height: 34 inches at the shoulder
Weight: 120 lbs.
Scars/Markings: None
Form: Rodion has a tall and slender body, with a thick plume. He carries himself with both elegance and eloquence. His pillars are lean but strong to carry him as far as he needs to go without much strain. His paws are large, though not comically so, to aid in digging, running, etc.
Family/Social Circle
Dame: Asya Catrina Belikov
Sire: Aleksandr Maxim Belikov
Brothers: Ivan Mikhail Belikov
Sisters: Sofia Asya Belikov
Mate: None
Interest: He takes no interest at anyone at this time
Pups: None
History
Place of Birth: Sayan mountain range
Past Injuries / Illnesses: none
Any other History: The first-born to the alpha male and female, he was the pride and heir to the throne of the Sayan Pack. His brother Ivan supported him in his growth and training, and was his pillar of sorts through many of his difficulties in his development. As their father believed that they needed to learn to depend on themselves, both brothers as well as their sister Sofia grew to be self-sufficient.
Rodion was preparing to take the throne, only months before his proverbial coronation when a power hungry male by the name of Nicolai killed Aleksandr with the intention to step up after the discovery of the dead alphen. When Rodion found his father the morning after his assassination, he called for help, but was wrongly accused after Nicolai spread the lie. He could not object, at the mercy of his entire pack, but before he ran he told his family that nothing was true about the murder. They seemed to believe him, but to this day he still doubts that they believed him. He comes to the lands of Fire and Ice to continue his life the way
his father would have wanted him to: as a leader.
Other Pictures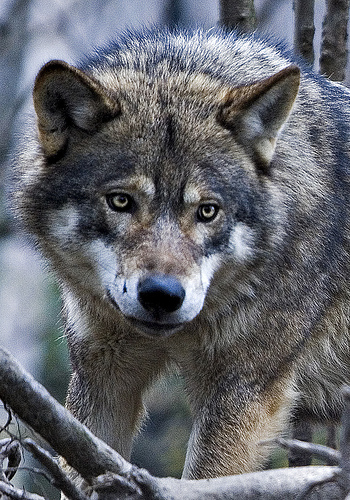 Alpha dealing with other lands.
Rodion paced. It was his fault for coming early, but he wanted to be sure he didn't miss this chance. He had been waiting along the borders for at least
an hour, and was getting sick of it. He stopped his movements, lean frame poised like a granite effigy as he peered up into the aquamarine heavens. Noon. The sun was ablaze in his golden coins even as he averted his gaze and focused on his surroundings. The time was nigh, and he had his duty to do for his pack.
The scent hit his nose like a phantom wave. The ebony figure soon came behind it. Eyes like pure jade held him in place, and darkness swirled around as though the banshee was possessed by magic. Rodion pulled his brows together, heart setting to something akin to stone as his rival approached him. She paused and they stared each other down from a short distance, as though neither dared to cross an invisible line. His voice was clipped, formal, as he finally chose to address her. "Natasia Romanovna. Greetings. You know why we are here." Her brows lifted in mock surprise. "No, Rodion Belikov, I do not. No one has informed me of any wrongdoing committed by any member of my pack or me." Her tones were nearly opposite his – languid, dripping poisoned honey. A stiff nod from the mascu before he continued.
"Not only were your followers taking of prey from our lands, but a death occurred on their accounts." His eyes were hard, cold, but he kept his voice level. When this began, he had exploded; everything he knew about keeping his temper was lost. A faithful friend and member of his pack, so young, had been killed for getting in the way of a hunt that was not even supposed to be on his lands.
"My wolves have done no such thing," Natasia snapped immediately. She was on the defensive, completely aware that young, foolhardy members of her pack had done exactly as he described. "You find reason to pester me, Rodion."
"Your pack has broken my law. Our treaty. You know the consequence for such actions." He raised his voice just slightly, enough for her to know he was in no mood to play her harlot's game.
"Yes yes," she rolled her eyes, as though this meant nothing to her, "Declaration of war, execution of the perpetrator, all of that. It's well and good, Belikov, but you and I both know there is no proof to accuse my followers of anything."
"Avdotia and Dmitry saw them with their own eyes! I have more than enough to accuse them with!" Still his voice rose, uncharacteristically, as his true anger began to show.
"Enough," The alphess brought down a piercing silence with a venomous bark. "We are finished here, Aleksandr," She spat his middle name in his face, bringing the heaviest dishonor on her foe. "I choose to finish this. You and I both know you will not win." She turned from him to disappear into the tree line, leaving her deadly scent behind. "We are not finished here!" His voice echoed in the empty dirt, hitting boulders as it left from deep in his chest. He snorted as her harlot's essence got stuck in his nares. There was nothing more he could do. She wouldn't listen to him. But revenge would be had. Not just for his honor, but for the honor of his pack.
Alpha claiming lands
The wind whipped along his coarse fur. Even in its shortness it pushed up against the back of his cranium, the hairs spreading from the force. He pushed onward through the land. Here, this felt right to him. After all of his running, his disgrace, he could finally continue on his journey here. He could fulfill his father's intentions and lead a pack. Petals of wildflowers in an array of yellows and blues brushed against his sinewy pillars, breeds of flora foreign to his eyes. He turned to the skies, clouds moving in tandem with one another, ready to burst with life-giving rain. He lowered his head, moved onward. The scent of a pack was calling, and it was bereft of a king.
The powerful looking bru coursed along old trails through their forest, optics hard and focused on a single goal. He made no move to put on an air of stealth, nor did he put forth an effort to make too much noise. If they heard him within the brush, so be it. As he looked ahead, a dim grey light from beyond the cumulus shone in the grassy clearing of the terra. Wolves milled about, making their business as they went. They seemed to be functioning well enough, but a sense of confidence seemed to be forgotten. They needed a leader, and he was more than willing to become that source of hope and pride for them. He had circled their territory many a time, familiarizing himself with most of it. They had food, shelter, and a bond. It was all they needed, as though they were gift wrapped for him. A small outcrop of heavy boulders stood nearby on a small hill, a veritable pulpit for him to stand on. He moved toward it dominantly, ears erect, tassel waving slowly as his own personal banner. He would seem haughty, but he would prove to them in time that he was anything but. To get wolves to fully comprehend him, impressions had to be made immediately.
He was sure to be noticed. His imposing form rose to the tops of the rocks, and immediately the wolves heads turned to him. His face was a picture of young wisdom, his smile barely visible as he threw back his head, a deep, powerful howl erupting from his chest and throat. The melody called to the wolves before him and those who roamed the borders to heed him closely. He told them his intentions clearly, precisely. Those who hade not been in his immediate vicinity came swiftly to the strange call in awe, curious. He had their attention, and he held it with authority. "Wolves, My name is Rodion Aleksandr Belikov. I come to you today with the sole purpose of uniting you once more." His voice was a low tenor, accented with the touch of his homeland. "I tell you to stand with me now, as I take the place among you my father had intended for me." The kingly tone of his words dropped. He sounded kinder now. "Every pack needs a leader. I am here to give you that again."