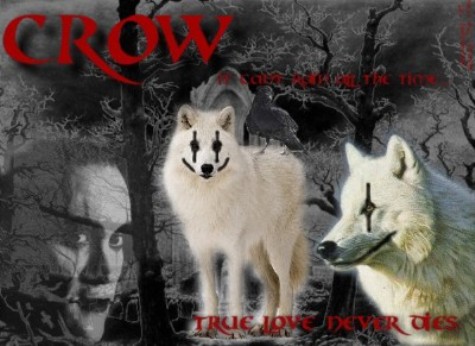 X.General Information.X

Formal Curse: Crow
Means: A black bird
Title[s]: None
Alias: Any derogatory name (Freak, weirdo, etc.), Formerly called Eric.
Descent: Pure Arctic
Age: 4 years
Gender: Male
Persona: Kind to those he befriends, insane to those he hates. Crow is seen by
some as regal, though he tries to be as casual as possible. To show himself off is
the last thing he wants, especially due to his markings. He only intimidates when
he needs to, and has a habit of sneaking up on others. If given the choice, he
would rather smile than growl, but would die before giving up a fight.
Heart: Not completely black, but dark enough to prevent a turn to the light.
Motto: "It can't rain all the time."/"Nothing is trivial."/"Tell them death is coming
for them. Tonight. Tell them Eric Draven sends his regards."
X.Physical Traits.X
Peltage Hue: Blizzard white
Occular Hue: Brass
Stands: 33 inches
Weighs: 120 lbs
Form: Very lithe. He is slender and often deceives others who think he has no
strength. His paws are small and narrow, and he carries a thin, sleek tail at a
curve or held straight for balance because of his constant aloofness.
Physical Distortions: Two black lines run down his eyes from his forehead to his
cheeks, and two more run from either corner of his lips, creating an often
disturbing, eternal smile.
X.Family Tree.X
Sire: Unknown
Dame: Unknown
Brothers: None
Sisters: None
Partner: Shelly (deceased)
Whelps: None, though he considered Sarah his daughter for a time.
Challengers: Top Dollar, Skank, Tin Tin, Grange, Myca, Funboy (all went by
nicknames, and these are what he knows them by), Legend, Despair, Evander, Deadly, Joker, many of the Midnight wolves
Minions: Sarah, his crow
Rank: Guardian, spy
X.Background.X
Life Story:
Crow was a popular young male in his pack and at a young age took over rule for
about a year. In the past he had gone by the name Eric, as given to him by his
parents. Many males under him envied him and his easy lifestyle. Many of them
also desired his mate, Shelly. One late night after a hunt, Shelly slept in the den
the den alone while Crow made his rounds along the pack border. The males he
had made enemies of, Top Dollar, Skank, Tin Tin, Grange, and Funboy, took Shelly
one at a time for their own pleasure, then killed her. When he found them, they
quickly overpowered him, wounded him, and exiled him. He decided to remain
away from his home, realizing after Shelly's death that there was nothing for him
there.
Soon after the beginning of his travels, he met an all too friendly bird while
scavenging for his next meal. It followed him after he took what meat he could
and hasn't left his side since. He was glad, for there were many long nights when
he needed the company and his crow was there for him. It was then that he took
his new name, living like a bird, as a fleeting spirit rather than a solid being,
though he will not turn down company when it presents itself. Later during his
year-long travel, he met a young pup named Sarah, who he took under his
figurative wing. He taught her many things over her first year of life that she kept
in her mind and heart, along with her spunk. They came to Damean's land for a
short time, but disappeared after fire ravaged everything. He took the opportunity
to finish Sarah's training and various life lessons, then released her to live her own
life, fully grown. He has finally returned to haunt Jabbar Junayd as he had with his
crow by his side, with or without Damean as king.
Place of Birth: Nowhere he remembers