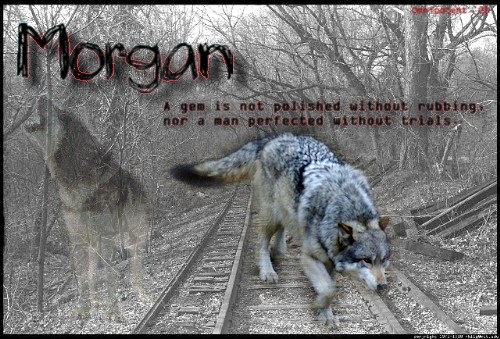 X.General Information.XFormal Curse:
Morgan
Means:
Great Circle
Title[s]:
None
Alias:
None
Descent:
Grey Wolf
Age:
5 years
Gender:
Male
Persona:
Humble, and strong, is often an older brother/father figure to others.
Morgan is playful and seems younger than he is sometimes. He holds a strong
sense of discipline in high regard and is proud of his lineage and family, but knows
also to be humble. Humility is as important if not more so than pride.
Heart:
Pure
Motto:
A gem is not polished without rubbing, nor a man perfected without
trials.
X.Physical Traits.X
Peltage Hue:
Smatterings of black along a pepper and cream and base, with
copper highlighting at his muzzle, the backs of his ears, and on the underside of
his tail.
Occualr Hue:
Ochre
Stands:
36 inches at the shoulder
Weighs:
125 lbs
Form:
Thick with corded muscle, lush tail, large paws for balancing his built frame
and long, thick pillars to support him. The body of a warrior.
Physical Distortions:
None
X.Family Tree.XSire:
Cynan
Dame:
Isolde
Brothers:
Galen
Sisters:
Eres
Partner:
None as of yet
Whelps:
None
Challengers:
Vega James Constantine
Minions:
None
Rank:
Guardian
X.Background.X
Life Story:
Morgan was born the eldest son of the alpha male and female of the Brecon
Beacons pack. He shared his birth with his sister Eres and was often left to watch
his younger brother by one year, Galen. The pack was nomadic, moving with the
snowstorms in the mountains. During Galen's first year, when he was around four
months of age, a particularly fast and heavy snowstorm hit the packs traveling
route. They hid in caves reserved for this purpose, and as the days passed Galen
grew restless under Morgan's strict and watchful eye. They slept around midday,
waiting on some of the older, more experienced wolves hunted for prey trapped in
the storm. His little brother was ready to play, while the others sought rest in the
midst of tension. When both Morgan and his sister refused play, Galen went off on
his own to what they thought was the back of the cave. He escaped their eye,
instead prompting a game of hide and seek in the blizzard. They awoke in the
middle of the night, to the sounds of the pack returning empty handed, and it
was then they realized that Galen had disappeared. In the morning Morgan took
a search party and was away until the end of the storm, three days later. Galen
was never found, and the pack was forced to move on without him before
suffering from starvation. Morgan blames himself for the death of his brother and
often has nightmares of being trapped beneath the snow as Galen was, or finding
him too late, frozen and dead. When he reached two years of age he left the
pack, feeling too ashamed to face the rest of his pack any longer. His sister left
as well, though her reasons were for finding a mate and finally growing up.
After a time of living in Midnight Meadows, he came across an old acquaintance,
Vega James Constantine, who had put Eres under his abusive spell. He caused an
unwanted confrontation, and a chase home ensued. Vega believed Morgan
wanted to steal his mate, and he had no chance to explain that he only wanted
to speak with his sister after years of separation. He made it back to the pack
lands before Vega took him down in front of the others, and he suffered an injury
to his throat. Vega was deterred by the presence of Eirwyn, Manheim, Tom, and
Damean Jager, and left after they confronted him. Morgan has since healed over
and resumed his position as guardian, though beneath his fur the raised scars of
Vega's fangs can be easily felt. He intends to remain in Midnight Meadows until
his life's end and has since taken to keeping an eye on the aging Tom Collins and
acting as a friend and father figure to Vaarak until he grows into an adult. He
feels as though he is compensating for what he has lost and seeks redemption
for his irresponsible actions.
Place of Birth:
Brecon Beacons, South Wales